Most of my watercolor flowers start in a sketchbook. Simple line drawings, that if lucky enough, will serve as reference for a painting.
Sketching is the beginning of a Process

Sketching ideas for watercolor flowers or landscapes helps work out the design, color palette and scale for a finished painting. Sketching also helps to loosen up a little, there is no pressure to get it perfect – its just a way to see if an idea will work on paper.
If a sketch works out well enough, then it is transferred to a piece of watercolor paper. Usually a light pencil drawing using the sketchbook as a guide.
watercolor flowers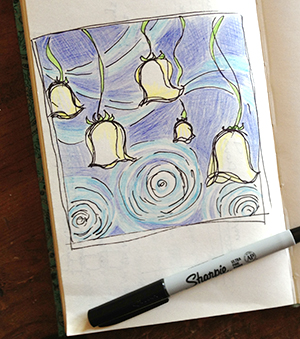 This little sketch colored in my sketchbook started out a simple bunch of hanging flowers. It inspired a finished watercolor color painting of bell shaped blossoms swinging in the breeze, and surreal clouds swirling in the background.